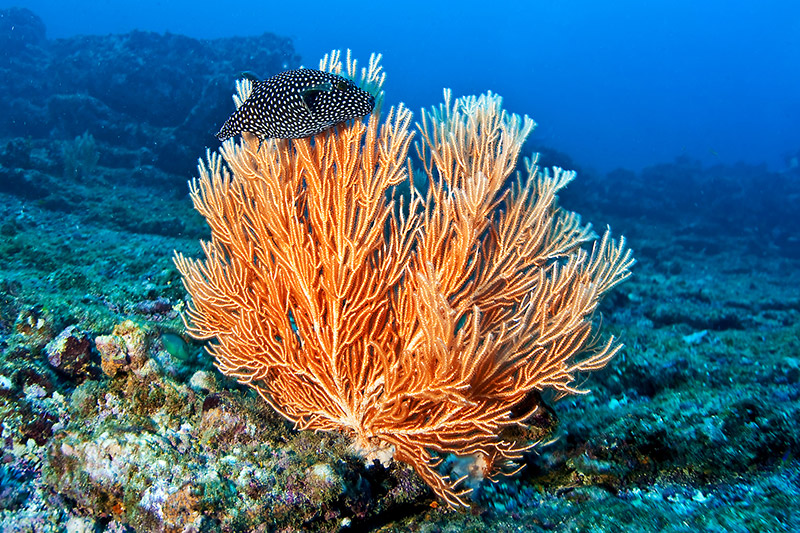 Caño Island Snorkeling $100 / Caño Island Diving $155, Discovery Scuba Dive $210
Cano Island is located 12 nautical miles from Drake Bay.
The departure for the Snorkeling Tour at Cano Island is at 7;30 am. During the scenic boat ride aboard our 24 ft PANGA boats, which lasts approximately 50 minutes, enjoy frequent sightings of dolphins, marine birds, as well as — in season — whales, false orcas and sea turtles.
The 600 acre Cano island is a significant historical archaeological site for Costa Rica, where two of the miraculous and mysterious perfectly round spheres from the pre-Colombian era were discovered along with other historical items.
Cano island is an ideal spot for snorkeling, swimming or just relaxing.
Two trails are available in Cano Island for light hiking, the first trail leading to the site of many of the archaeological discoveries, where a few representative artifacts still remain, and the second to a beautiful lookout on the south side of the island.
Aquatic life around the Cano island is spectacular, and snorkelers will find a broad and colorful spectrum of Pacific Coast reef fish such as: triggerfish, needlefish, parrotfish, angelfish, puffers, grunts, barracudas among many others — as well as rays, sea turtles and white tip reef sharks.
After a relaxing and fun-filled day, we depart the Cano island at 11:30 pm for the 40 minutes trip back to San Josecito beach for lunch and after head back to the hotel.
NOTE: Our Boats to Cano Island are fully insured and equipped with roofs, compass, first aid kits, and mandatory life vest s for the passengers.
More Cano Island Pictures in the Photo Section
Cano Island is an amazing marine biological reserve in Costa Rica. Cano Island is often used as a migratory passage of birds who fly to warmer climes from the northern hemisphere during the winter. Aside from the evergreen forest found on the island, the only other trees growing out here include the rubber tree, the wild cocoa tree and some shrubs and bushes. Besides birds like the osprey, black hawk, cattle egret and phalarope, some common animals and reptiles on the island are; bats, boa constrictors, possums, tree frogs, moths, beetles, bats, mosquitoes, rats and lizards.
The Cano island's virgin waters are some of the bluest in the country, and are home to a spectacular variety of stunning marine flora and fauna as well as some gorgeous coral reefs. Rated as being the best underwater adventure diving and snorkeling spots in the world, the Cano Island Biological Reserve is also home to a huge variety of fish, whales and sharks and you can see all these in this snorkeling tour. 
With fantastic underwater visibility, one can see on any given day, sea turtles, dolphins, stingrays, manta rays, moray eels, barracudas, tuna, snapper and grouper swimming alongside a variety sharks and humpback or pilot whales. Since the island is a reserve scuba diving and snorkel numbers are regulated, and visitors are not allowed to remove any marine life, dead or alive.
Enjoy our Snorkeling Tour at Cano Island!
Reservation
---