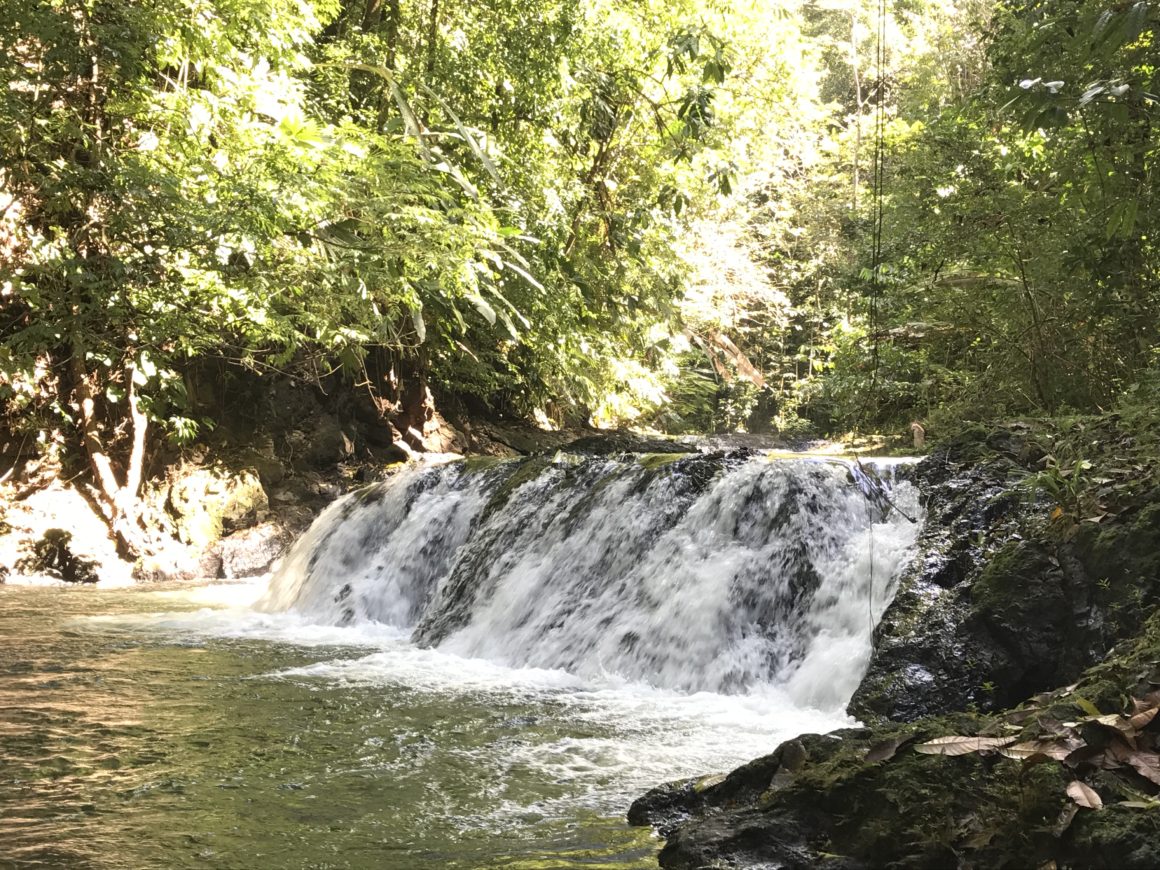 San Pedrillo is the closest Corcovado National Park Ranger Station to Drake Bay, Costa Rica and the 20 minute boat ride from Drake Bay offers possible sightings of dolphins and other marine and aquatic marine life, passing an island nesting spot for the Brown Booby.
Our arrival at the beach location of the Corcovado National Park Ranger Station is a wet landing, so bring your sandals in addition to sturdier footwear for the trails through the National Park.
Our bilingual naturalist guide will lead a 3 hour hike through the primary and secondary forest, locating and explaining the extensive rainforest wildlife and flora.
The rich biological diversity of the Corcovado National Park is astounding, and sightings may include as many as 4 types of monkeys, as well as coatis, sloths, anteaters, and much more. Bird lovers will be enchanted by a wide variety of birds, including tanagers, flycatchers, kingfishers, manakins, trogons, crested guans, and spectacular scarlet macaws and toucans.
After a lunch at the park ranger station, there is a second shorter hike to a beautiful waterfall – bring your bathing suite for a refreshing swim in the cool clear water! This full day tour starts at 7:30 am, and returns at approximately 2:30 pm.
We recommend that you bring sunscreen, sunglasses, hat, bug repellent, binoculars, bathing suit and most importantly hiking shoes.
While hiking along the trails you'll find yourself crossing streams/rivers, in addition to traversing across slippery, sloping terrain. Sandals are not recommended for the hiking portion of the tour.
NOTE: Our fleet of boats is fully insured, with roofs, VHF radios, compass, first aid kits, and mandatory life vest s for the passengers.
Important Points
Hiking boots are highly recommended here, as the trail throughout the park is comprised of a hard, reddish type clay that is very, very slippery when wet. As well, there are several rivers and streams to cross.
It is recommended that you take an ample supply of water with you as you enter the Park.
We highly recommend you bring mosquito repellent.
The trail conditions, always well marked and maintained, vary throughout the year depending on weather conditions.
The sun, particularly along the route from Carate to Sirena, is hot, strong and usually unbearable. Sun screen is an absolute must, especially for the back of your neck and face.
Reservation
---