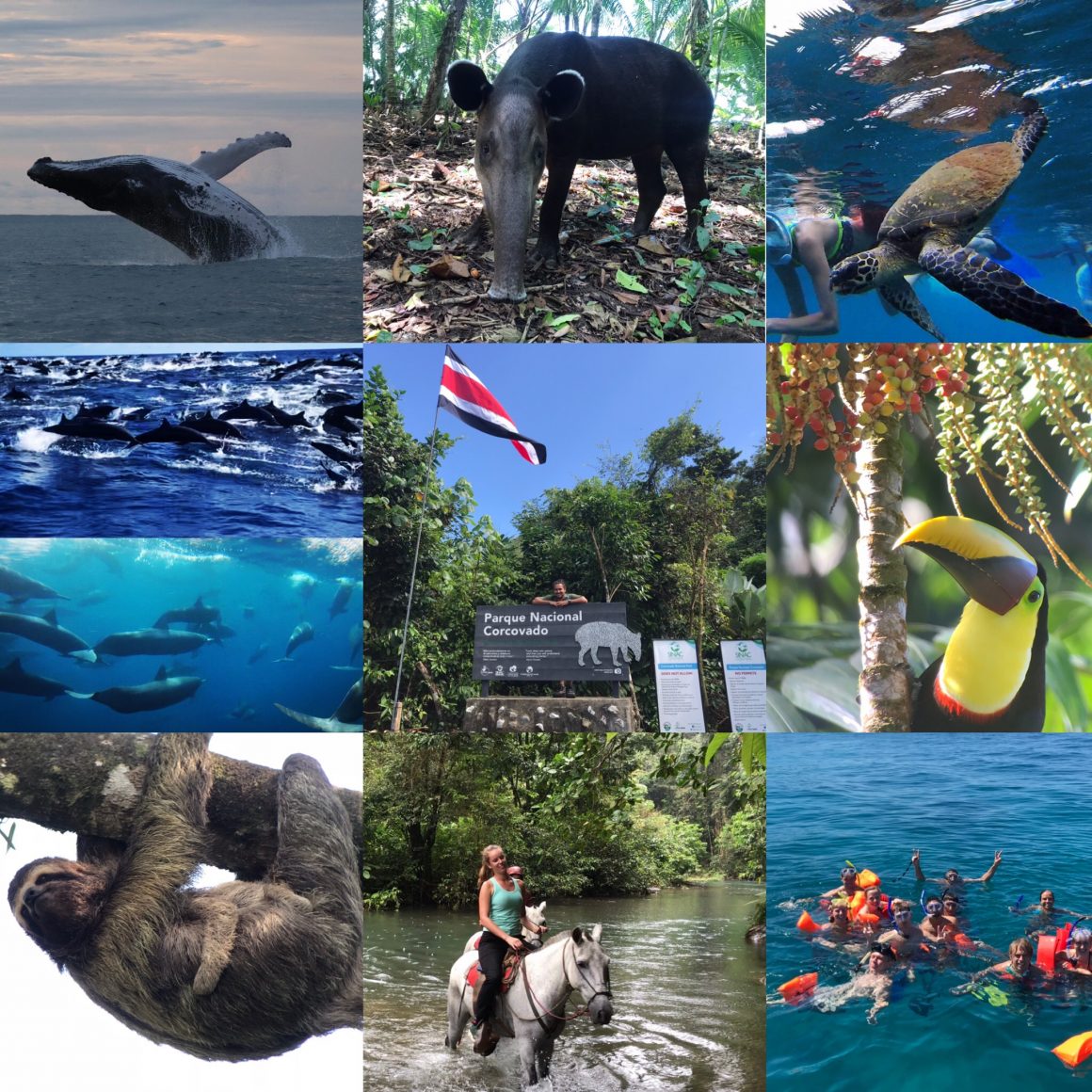 Drake Bay Full Adventure Package 
Corcovado Expeditions is now offering a wide rage of new thematic travel programs to teach our visitors the rich biodiversity of our natural resources
In this Costa Rica Whale watching adventure package the whales are in charge with the task of drawing the attention of those visitors interested to learn more about the different whale that visit the South Pacific waters of Costa Rica. Learn about where they come from, how the families travel the oceans together and the different seasons when they do it.
The Southern Pacific side of Costa Rica is recognized around the world as a breeding area for two groups of Humpback whales from different hemispheres. One of these groups comes from California, USA, while the other group comes from the south of Chile and the Antarctic.  Also other whale species such as Bryde's whale, Sei whale, Fin whale, Killer whale, Melon headed whale and have been spotted in our whale watching expeditions.
Costa Rica certainly has an especial characteristic that makes it unique!
Throughout the year visitors can also see enjoy unforgettable encounters with different dolphin species that reside the South Pacific waters of Costa Rica, species like pan-tropical spotted dolphin, bottle noose dolphin, common dolphin, and spinner dolphin just to name few.
Our Whale and Dolphin watching programs are lead by professionally trained expeditions leaders that count with an extensive experience and knowledge of the whales and dolphins species that frequent our waters.
What the price of $1495 per person includes:
One night in San Jose, taxi to airport, roundtrip flight to/from Drake Bay plus transportation to/from airports, five nights accommodations at Hotel Ojala with three daily meals and appetizers, three whale/dolphin watching expeditions, one guided day hike to Corcovado National Park,
What it does NOT include:  International flights to and from San Jose, meals while in San Jose, and gratitude's.
Price per person $1495 based in double occupancy. + $ 510 single occ. (taxes included).
(Extra expedition days can be added as requested or any other type of tours- as mangroves Safaris or Overnight Expeditions in Corcovado National Park)
Tour Itinerary
DAY 1:

Arrive in San Jose, Costa Rica and spend the night at recommended hotel in San Jose.

DAY 2:

Fly directly to Drake Bay and arrive at Hotel Allegra .  Hotel  has a great location down town village of Agujitas and only 5 minutes walk from the ocean.  Rooms overlooking the Forest, are air-conditioned and hot water showers

DAY 3:

Whale and Dolphin Watching.  Tour starts at 8:00 am and ends between 2 and 3 pm depending on what we see.  Lunch is either on the boat, Cano Island or at San Josecito beach where you can relax and snorkel.  The tour will be guided by a local tour guide, who has over 10 years of experience.

DAY 4:

Snorkeling  tour at Caño Island. Tour starts at 7:30 am and ends between 1 and 2 pm depending on what we see.

DAY 5:

Mangrove Forest Tour.  Tour starts at 7:00 am and ends between 2 and 3 pm depending on what we see.

DAY 6:

Corcovado National Park – Sirena Park Ranger Station departing at 6:00am, 70 minutes boat ride and 4 hours of hiking, recommended that you wear sandals to begging the tour and hiking boats for the trail. and returns from sirena at 1:30 pm.
Upon reaching the Sirena Ranger Station in Corcovado National Park, you will have the chance to change to more rugged footwear to hike some of the Park´s wildest terrain.
Since this station is less accessible, there is greater opportunity to spot some of the rarest rainforest wildlife. Sirena rewards the more adventurous traveler with the true experience of what National Geographic Magazine has called "the most biologically intense place on earth."

DAY 7:

Return flight to San Jose.
Reservation
---