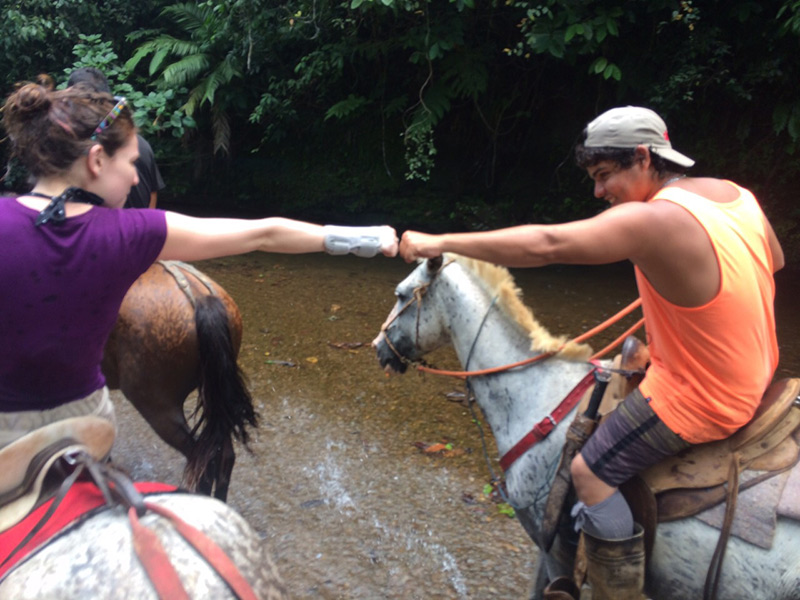 For those interested in visiting the outlying area, Corcovado Expeditions offers half-day horseback riding tours. Departing just a few minutes walk from your hotel, our specialized naturalist guides will lead you on well maintained paths and roads that visit all the desire able spots of this remote rainforest.
The horseback riding tour include Gallop along deserted beaches or ride through primary rainforest en route to lush, green hilltops with sweeping views of the Pacific Ocean or thundering waterfalls hidden deep in the verdant forest.
Throughout the horseback riding tour your guide will point out items of interest including a variety of bird and animal species and numerous medicinal plants and bushes. Hummingbirds, vultures, hawks, scarlet macaws, sloth's, and monkeys are common sightings as are colorful orchids, colorful berry trees and heliconias.
The Osa Peninsula contains some of Costa Rica's most beautiful topside scenery, and a horseback riding tour is ideally suited to help you see it.
Our horses are obedient and trained specifically for this type of activity. Whether you're an expert rider or novice, our horseback riding tour is a fantastic way to spend a few hours exploring the local flora and fauna.
Reservation
---